Have you ever tried Brazilian food? In Chicago, you haven't! Despite the hundreds of different ethnic restaurants in Chicago, not one is Brazilian. But there is an alternative: Sinhá (Seen-yah'), which means "lady of the house", offers you the only opportunity in Chicago to have Brazilian food catered for any occasion. The food preparation is totally authentic and so is the chef. Born, raised, and educated in Brazil, Jorgina Pereira began small-scale catering 12 years ago for friends and acquaintances. For her, cooking is a source of personal enjoyment and an outlet for artistic expression. Since then, Sinhá has earned the respect of big-name establishments such as Varig Brazilian Airlines who have frequently requested Sinhá's contribution.
Brazilian culture is a product of many international influences, especially African and Portuguese, which are evident in its cuisine. This becomes apparent in the tantalizing preparation of poultry, seafood, vegetarian, pork and beef dishes. Traditionally, Brazilian food uses many spices, but the dishes are not naturally hot. Each dish can be made mild or spicy, and hot sauces or dressings are always served on the side. These delectable gourmet dishes are always prepared from the freshest ingredients and presented in the most elegant manner.
Brazilian culture is rich with history and tradition, exemplified by a plethora of well-known music, and a distinctive and festive attire. Sinhá wants not only to whet your palate, but also to stimulate your visual and auditory senses, making your event a truly Brazilian experience! Among the ways in which Sinhá does this: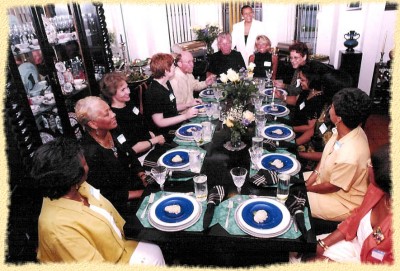 When you are making plans for entertaining family, friends or clients, let Sinhá plan and execute a successful event for you. The staff will work with you to custom-design just the right menu, whether it be for a formal dinner or a picnic; and we will select from a number of complimentary services which will give the occasion a unique character, sure to enchant both you and your guests. No party is too small for Sinhá...dinner for two is our pleasure, a cocktail party for 200 is our forté!
Call (312) 491-8200 for a free consultation
and discover how right Sinhá is for your next function.